Product Description
Geomembrane is the low permeable synthetic membrane liner and geotechnical engineering materials which are widely used for solid waste containment, mining and water containment applications. zhonglu smooth geomembrane HDPE liner is made of finest quality high density polyethylene HDPE with specially formulated, virgin polyethylene resin, combined with specified quantity carbon black, antioxidant, anti-aging agent and UV resistance components, which makes our smooth geomembrane HDPE liner with excellent resistance to UV radiation and is suitable for exposed conditions.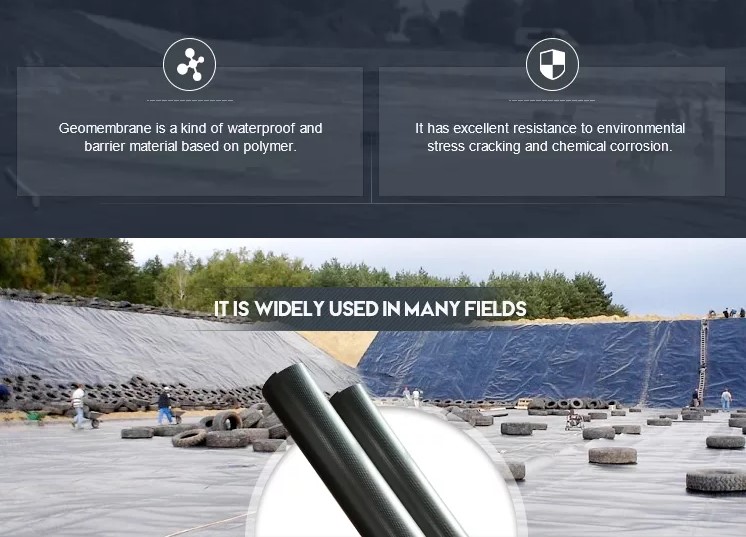 Geomembrane Parameter
Spec
Properties
Test method
ASTM
GMS0.5
GMS0.75
GMS1.0
GMS1.25
GMS1.5
GMS2.0
GMS2.5
Thickness
D5199
0.5mm
0.75mm
1.00mm
1.25mm
1.50mm
2.00mm
2.50mm
Density (≥ g/cc)
D1505
0.940
0.940
0.940
0.940
0.940
0.940
0.940
Tensile Properties
(Each direction) (≥)
• yield strength
• break strength
• yield elongation
• break elongation
D 6693
Type IV


8 kN/m
14kN/m
12%
700%


11 kN/m
20kN/m
12%
700%


15 kN/m
27 kN/m
12%
700%


18 kN/m
33 kN/m
12%
700%


22 kN/m
40 kN/m
12%
700%


29 kN/m
53 kN/m
12%
700%


37kN/m
67kN/m
12%
700%
Tear Resistance (≥)
D 1004
64 N
93 N
125 N
156 N
187 N
249 N
311 N
Puncture Resistance (≥)
D 4833
160 N
240 N
320 N
400 N
480 N
640 N
800 N
Stress Crack Resistance (≥)
D 5397
300 hr.
300 hr.
300 hr.
300 hr.
300 hr.
300 hr.
300 hr.
Carbon Black Content
D 1603
2.0-3.0%
2.0-3.0%
2.0-3.0%
2.0-3.0%
2.0-3.0%
2.0-3.0%
2.0-3.0%
Carbon Black Dispersion
D 5596
Note(1)
Note(1)
Note(1)
Note(1)
Note(1)
Note(1)
Note(1)
Oxidative Induction Time (OIT) (≥)
(a)Standard OIT
– or –
(b)High Pressure OIT


D 3895

D 5885


100 min.

400 min.


100 min.

400 min.


100 min.

400 min.


100 min.

400 min.


100 min.

400 min.


100 min.

400 min.


100 min.

400 min.
Geomembrane Feature
1) Good physical and mechanic performance
2) High tearing resistance, strong deformation adaptability
3) Puncture-resisting, aging resisting, ultra-violet radiation, oil and salt, and corrosion resistance
4) Good adaptability to high and low temperature, non-toxicity, long service life
5) Good waterproof, drainage, anti-seepage and damp proof effects
6) Complete width and thickness specifications, low cost and easy installation
HDPE Geomembrane Application:

(1)Aquaculture:
        Using the geomembrane anti-seepage feature; geomembrane liners can be used as fish ponds, shrimp pond, tank liner and others.
(2)Landfill:
HDPE geomembrane is the most widely used in landfill anti-seepage engineering material. The use of main parts of the bottom of the landfill liner, landfill sealing cover, leachate regulating pool liner, etc.
(3)Water Treatment System :
HDPE geomembrane is applied to the adjustment of the power plant and sewage treatment plants pool;and a series of water treatment systems.
(4)Mining:
HDPE geomembrane suitable mining: washing pool, pool heap leaching, heap yard, dissolving tank, tank, storage area, the bottom line of the tailings seepage control, etc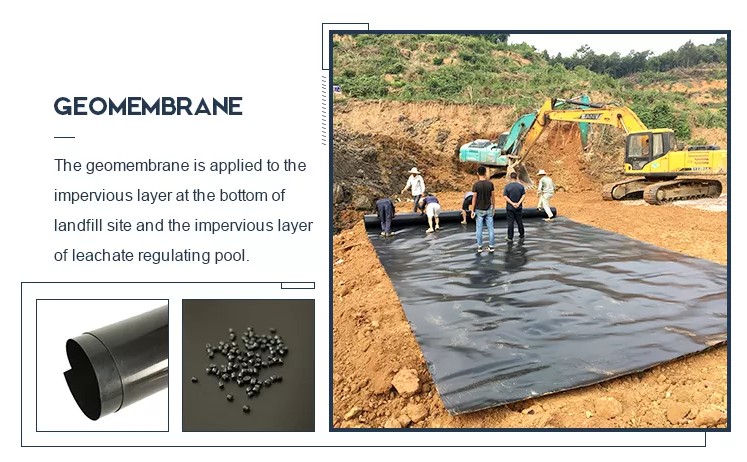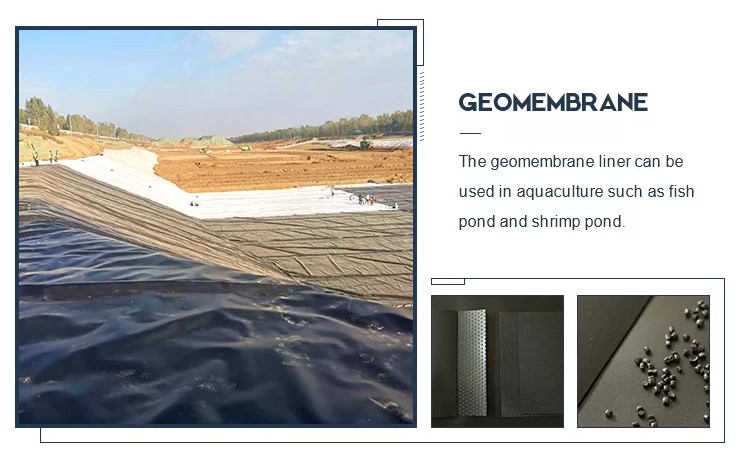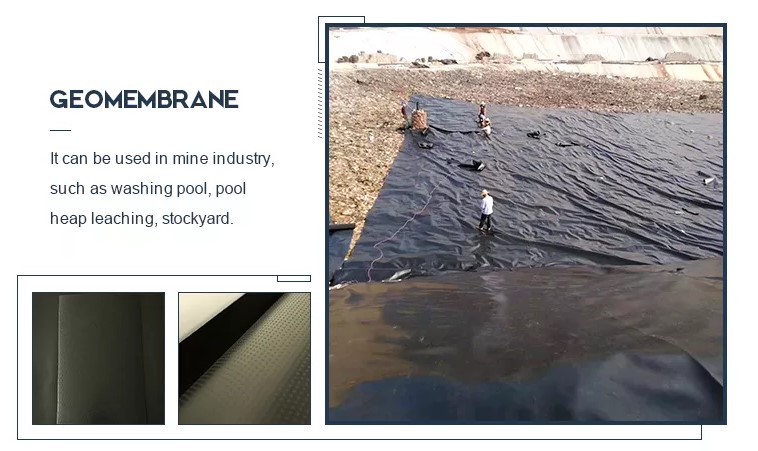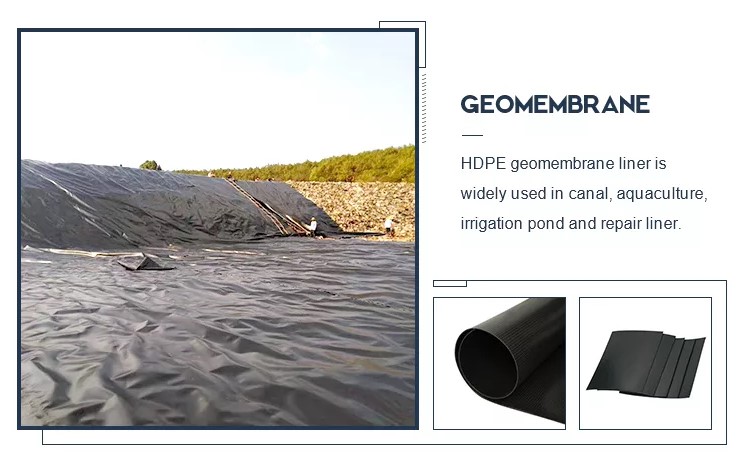 Construction Method
1. The slope shall be laid in order from top to bottom. Don't pull it too tight.
2. Tow adjacent longitudinal joints should not be in a horizontal line, should bestaggered more than 1m each other.
3. Longitudinal joints should be more than 1.50m away from the dam foot and bending foot, and should be located on the plane.
4. When the slope is laid, the direction of spreading film should be basically parallel to the slope line.
5. The construction, first of all to use small diameter sand or clay levelingbase, and then laid the geomembrane. The geomembrane should not be stretched too tight, and the part of the soil bured at both ends is corrugated. A transitional layer of about 10cm is laid on the geomembrane with sand or clay.