Geomembrane  Product Description
Our Geomembrane is fabricated by the state of the art automatic geomembrane production lines and advanced three layered pressing technology in accordance with GRI GM13 standard. Compared with traditional concrete, asphalt and compacted clay, smooth geomembrane HDPE Liner has proven to be far more cost effective, environmentally safe, excellent durable, chemically resistant, fast deployment and easy transportation.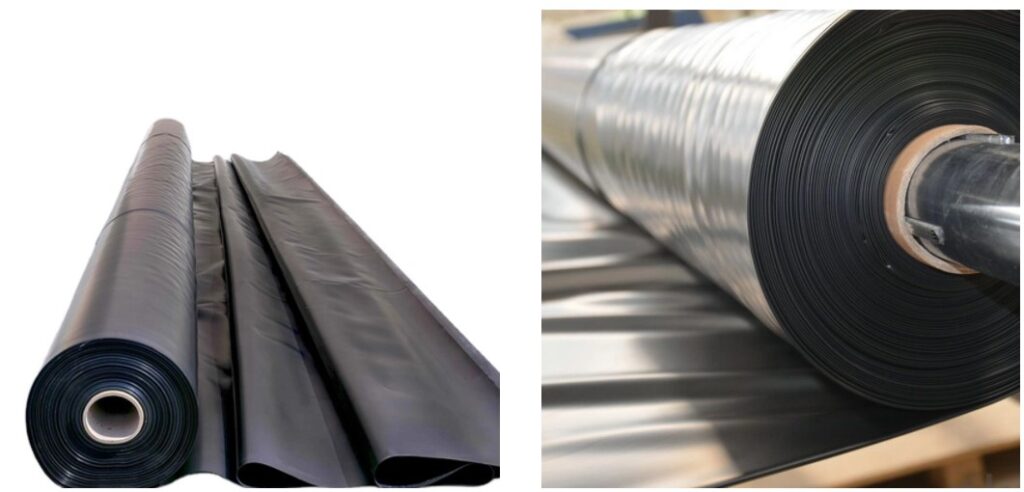 Technical Parameter :
Spec
Properties
Test method
ASTM
GMS0.5
GMS0.75
GMS1.0
GMS1.25
GMS1.5
GMS2.0
GMS2.5
Thickness
D5199
0.5mm
0.75mm
1.00mm
1.25mm
1.50mm
2.00mm
2.50mm
Density (≥ g/cc)
D1505
0.940
0.940
0.940
0.940
0.940
0.940
0.940
Tensile Properties
(Each direction) (≥)
• yield strength
• break strength
• yield elongation
• break elongation
D 6693
Type IV


8 kN/m
14kN/m
12%
700%


11 kN/m
20kN/m
12%
700%


15 kN/m
27 kN/m
12%
700%


18 kN/m
33 kN/m
12%
700%


22 kN/m
40 kN/m
12%
700%


29 kN/m
53 kN/m
12%
700%


37kN/m
67kN/m
12%
700%
Tear Resistance (≥)
D 1004
64 N
93 N
125 N
156 N
187 N
249 N
311 N
Puncture Resistance (≥)
D 4833
160 N
240 N
320 N
400 N
480 N
640 N
800 N
Stress Crack Resistance (≥)
D 5397
300 hr.
300 hr.
300 hr.
300 hr.
300 hr.
300 hr.
300 hr.
Carbon Black Content
D 1603
2.0-3.0%
2.0-3.0%
2.0-3.0%
2.0-3.0%
2.0-3.0%
2.0-3.0%
2.0-3.0%
Carbon Black Dispersion
D 5596
Note(1)
Note(1)
Note(1)
Note(1)
Note(1)
Note(1)
Note(1)
Oxidative Induction Time (OIT) (≥)
(a)Standard OIT
– or –
(b)High Pressure OIT


D 3895

D 5885


100 min.

400 min.


100 min.

400 min.


100 min.

400 min.


100 min.

400 min.


100 min.

400 min.


100 min.

400 min.


100 min.

400 min.
Features:
Excellent chemical resistance.
Outstanding stress crack capacity.
Lowest permeability.
Excellent UV resistance.
Stable low temperature embrittlement resistance.
Complete width and thickness specifications.
Cost effective.
Proven performance.
Fast deployment.
Easy transportation.
Meet or exceed all aspects of GRI GM13.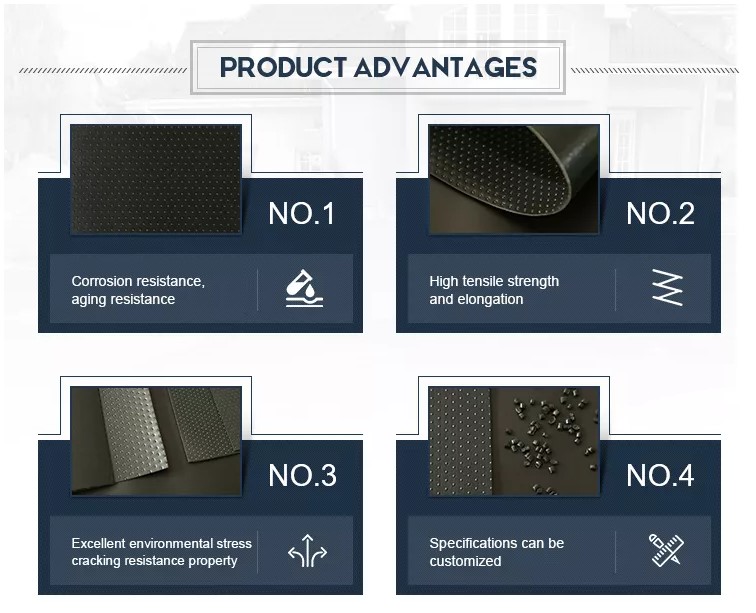 Product Application
1.Various waterproof and anti-seepage projects such as landfills,solid waste treatment stations,tailings storage yards
2.sewage ponds,petrochemicals, construction, water conservancy,mining,landscape gardens,subway tunnels,
aquaculture,livestock biogas digesters, etc.
3.Environmental protection projects:Landfill,sewage treatment plants,power plant regulating pools,industrial and hospital solid wastes,etc.
4.Mining:heap leaching platforms, conduit and retention channels and wells for liquid solutions, , final disposal reservoirs.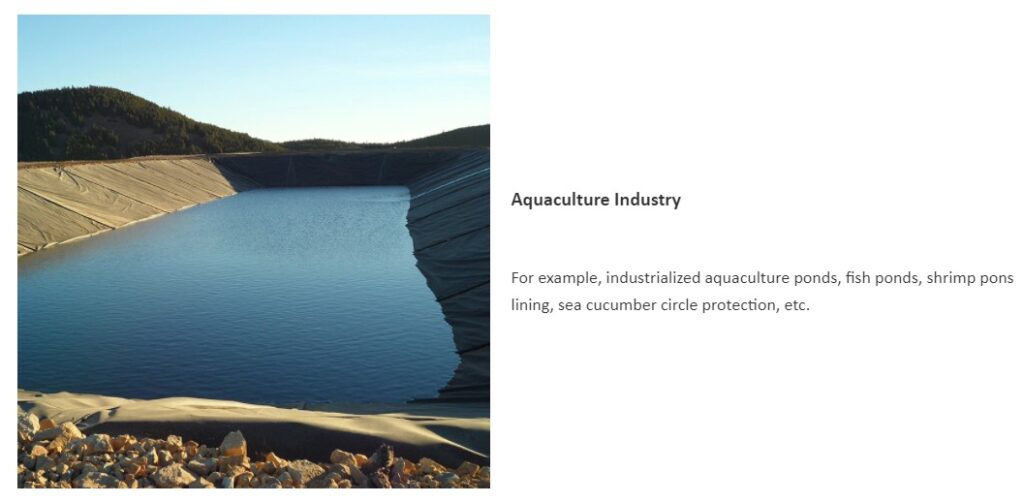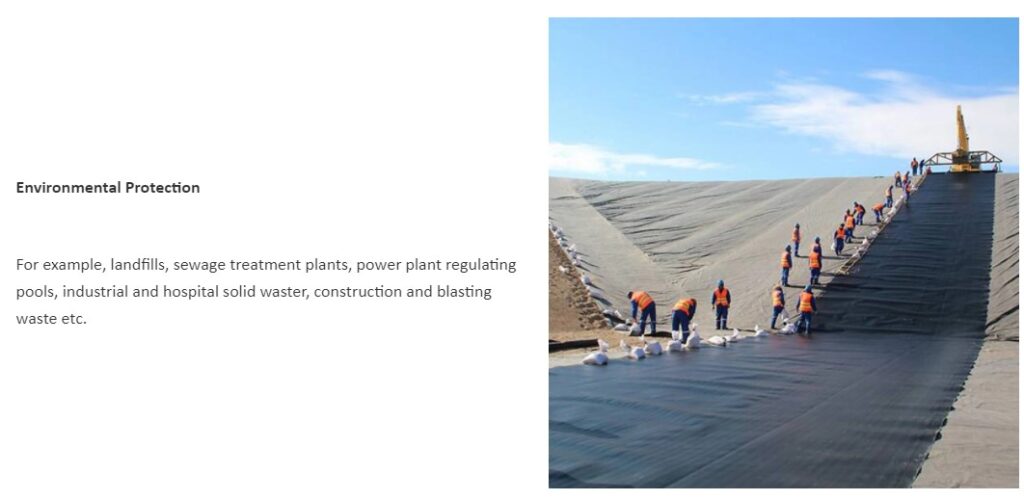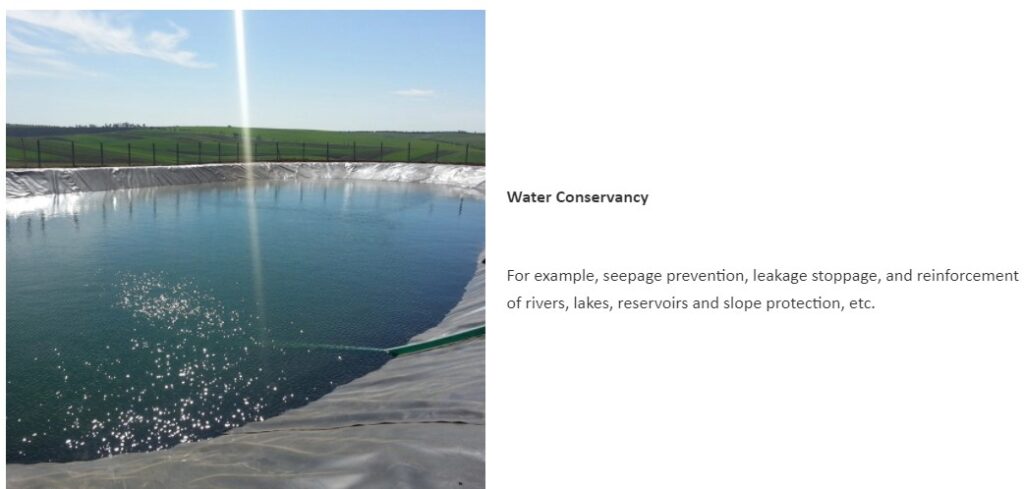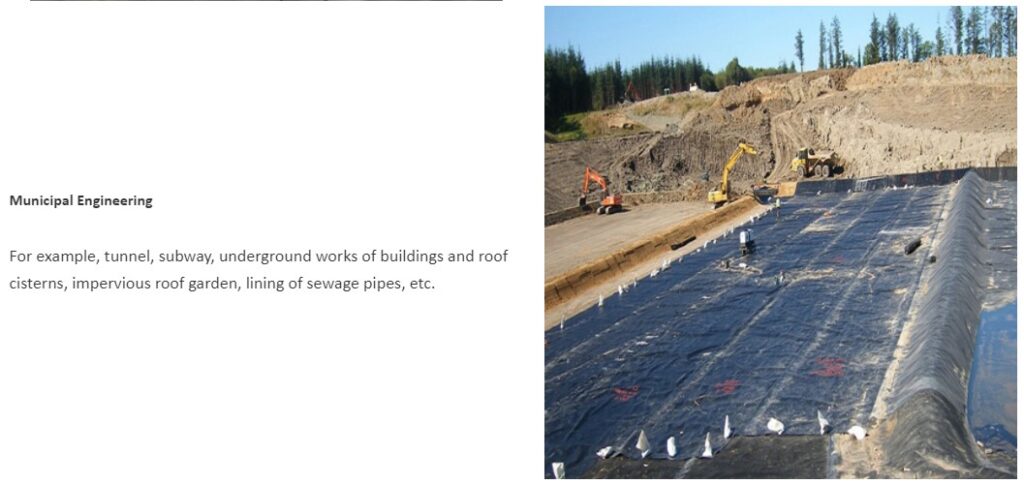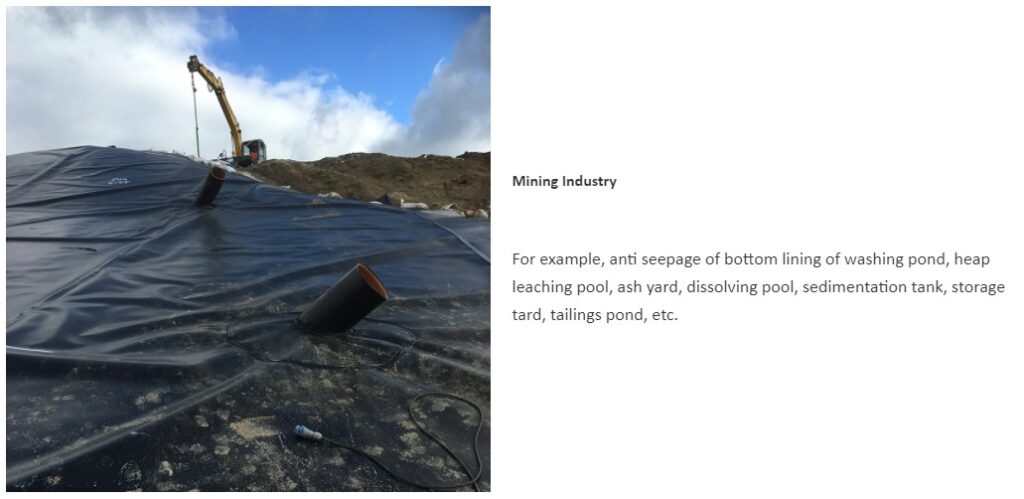 Construction Method
1. The slope shall be laid in order from top to bottom. Don't pull it too tight.
2. Tow adjacent longitudinal joints should not be in a horizontal line, should bestaggered more than 1m each other.
3. Longitudinal joints should be more than 1.50m away from the dam foot and bending foot, and should be located on the plane.
4. When the slope is laid, the direction of spreading film should be basically parallel to the slope line.
5. The construction, first of all to use small diameter sand or clay levelingbase, and then laid the geomembrane. The geomembrane should not be stretched too tight, and the part of the soil bured at both ends is corrugated. A transitional layer of about 10cm is laid on the geomembrane with sand or clay.