Product Description
Our Geomembrane is fabricated by the state of the art automatic geomembrane production lines and advanced three layered pressing technology in accordance with GRI GM13 standard. Compared with traditional concrete, asphalt and compacted clay, smooth geomembrane HDPE Liner has proven to be far more cost effective, environmentally safe, excellent durable, chemically resistant, fast deployment and easy transportation.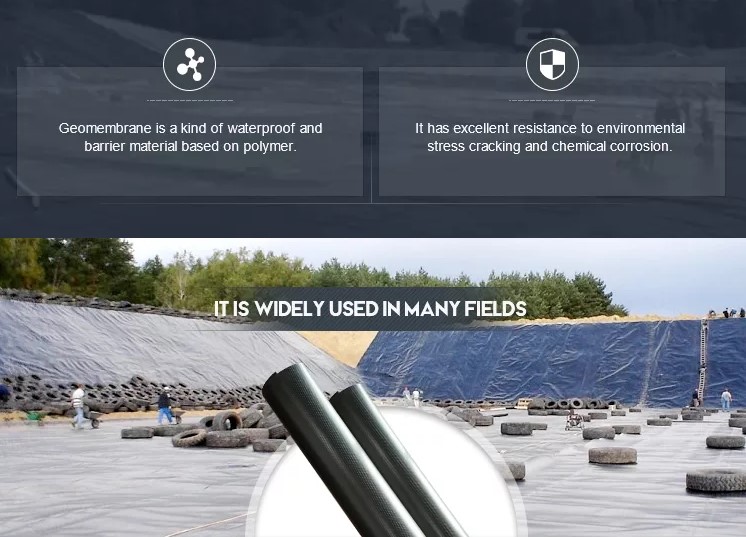 Specification:
1. Thickness: 0.3mm-3.0mm
2. 1m-8m in roll width, the length as client's request.
Property:
Good flexibility.
For service temperature range: -70°C–+110°C
Corrosion resistance, aging resistance.
Excellent environmental stress cracking resistance property.
High tensile strength and elongation.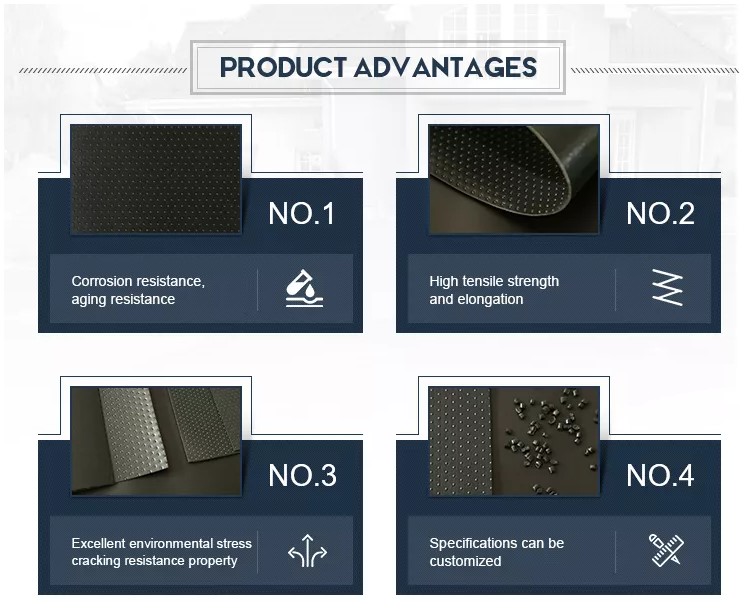 Technical Parameter :
Spec
Properties
Test method
ASTM
GMS0.5
GMS0.75
GMS1.0
GMS1.25
GMS1.5
GMS2.0
GMS2.5
Thickness
D5199
0.5mm
0.75mm
1.00mm
1.25mm
1.50mm
2.00mm
2.50mm
Density (≥ g/cc)
D1505
0.940
0.940
0.940
0.940
0.940
0.940
0.940
Tensile Properties
(Each direction) (≥)
• yield strength
• break strength
• yield elongation
• break elongation
D 6693
Type IV


8 kN/m
14kN/m
12%
700%


11 kN/m
20kN/m
12%
700%


15 kN/m
27 kN/m
12%
700%


18 kN/m
33 kN/m
12%
700%


22 kN/m
40 kN/m
12%
700%


29 kN/m
53 kN/m
12%
700%


37kN/m
67kN/m
12%
700%
Tear Resistance (≥)
D 1004
64 N
93 N
125 N
156 N
187 N
249 N
311 N
Puncture Resistance (≥)
D 4833
160 N
240 N
320 N
400 N
480 N
640 N
800 N
Stress Crack Resistance (≥)
D 5397
300 hr.
300 hr.
300 hr.
300 hr.
300 hr.
300 hr.
300 hr.
Carbon Black Content
D 1603
2.0-3.0%
2.0-3.0%
2.0-3.0%
2.0-3.0%
2.0-3.0%
2.0-3.0%
2.0-3.0%
Carbon Black Dispersion
D 5596
Note(1)
Note(1)
Note(1)
Note(1)
Note(1)
Note(1)
Note(1)
Oxidative Induction Time (OIT) (≥)
(a)Standard OIT
– or –
(b)High Pressure OIT


D 3895

D 5885


100 min.

400 min.


100 min.

400 min.


100 min.

400 min.


100 min.

400 min.


100 min.

400 min.


100 min.

400 min.


100 min.

400 min.
Application:
Flexible membranes are used in a variety of applications, such as:
1.Landfill lining
to protect the ground water from contamination.
2.Landfills capping
to prevent fluid flow in the landfill, to trap and properly vent the gases generated during decomposition of organic waste and to permit efficient revegetation and restoration of the area.
3.Water reservoirs
for collecting rain-water before it reaches the sea.
4.Reservoirs for waste-water
to protect the groundwater sources or streams.
5.Pond-lining
for artificial lakes and irrigation of farms.
6.Irrigation canals
an economic alternative to concrete and compacted earth for transporting water and irrigating large areas. Also used to reduce seepage from existing deteriorated concrete linings.
7.Protection of lake banks
for soil stabilization.
8.Tunnels
protecting the structure against humidity and water pressure.
9.Earth dams
for soil stabilization.
10.Underground insulation
of chemical plants, petrol stations & roads to prevent chemicals, oil etc. from polluting the underground water in case of a leakage.
11.Mining
for preventing contamination of the soil and underground water and permitting extraction of precious metals by heap leaching, using chemical solutions.
12.Tanks
secondary lining for preventing pollution in case of leakage or chemical spill.
Insulation of buildings & construction projects
Evaporation basins
Aquaculture
Water reservoirs for fish breeding.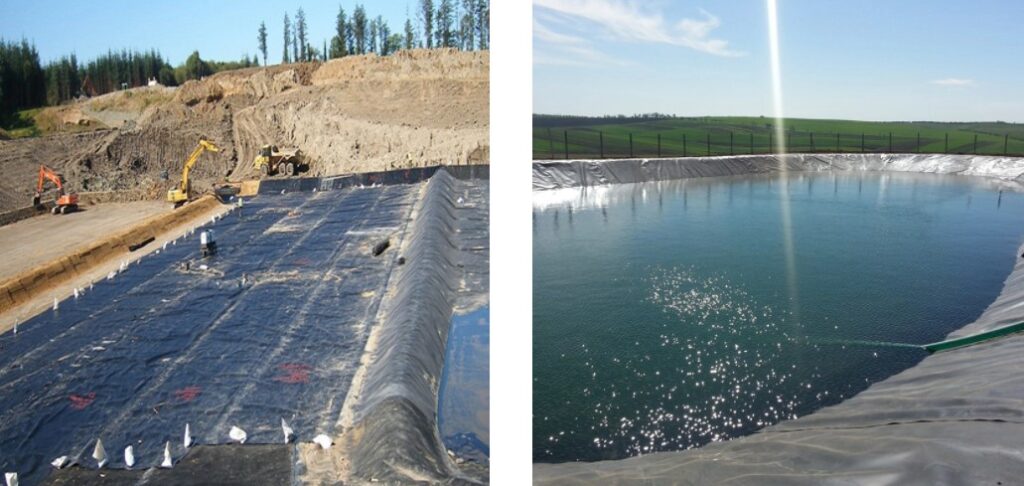 Construction Method
1. The slope shall be laid in order from top to bottom. Don't pull it too tight.
2. Tow adjacent longitudinal joints should not be in a horizontal line, should bestaggered more than 1m each other.
3. Longitudinal joints should be more than 1.50m away from the dam foot and bending foot, and should be located on the plane.
4. When the slope is laid, the direction of spreading film should be basically parallel to the slope line.
5. The construction, first of all to use small diameter sand or clay levelingbase, and then laid the geomembrane. The geomembrane should not be stretched too tight, and the part of the soil bured at both ends is corrugated. A transitional layer of about 10cm is laid on the geomembrane with sand or clay.
FAQ
Q: Are you trading company or manufacturer?
We are factory.
Q:Is the quality of your products stable?
The company has a complete QC system, and each batch of products will be sampled and the samples will be kept for 5 years.
Q:Can you do OEM?
Yes, of course. We can produce the products as your request.
Q: Do you provide samples? is it free?
Yes, we could offer the sample for free charge but do not pay the cost of freight.
Q: How long is your delivery time?
Generally it is 5-10 days if the goods are in stock. or it is 10-15 days if the goods are not in stock, it is according to quantity.

Q: What is your terms of payment?
Payment<=5000USD, 100% in advance. Payment>=5000USD, 30% T/T in advance,balance before shipment.
If you have another question, please feel free to contact us at any time.