HDPE Geocell Introduction:
Geocell is a three-dimensional mesh cell structure formed by high strength welding of REINFORCED HDPE sheet material. It is generally made by ultrasonic needle welding. Due to engineering needs, some holes are drilled on the membrane. From the appearance of geocell, it can be classified into several types, including smooth geocell, punching geocell and textured geocell. There are national standard and non-standard geocells.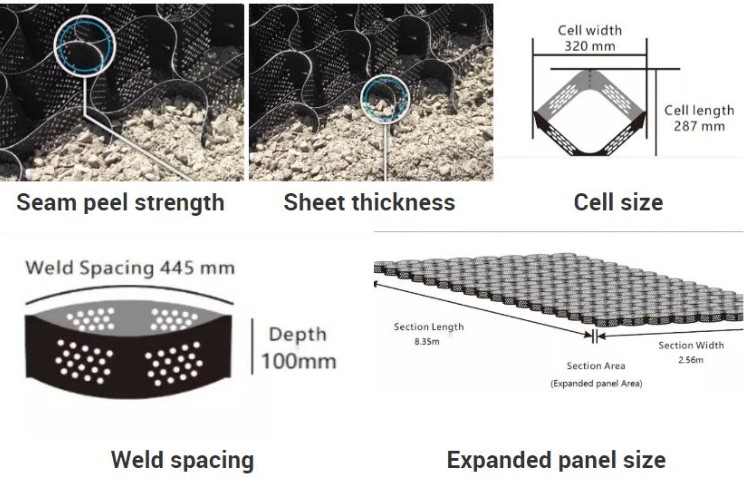 HDPE Geocell Specifications:
(1).Cell depth: 50mm,100mm,150mm,200mm,250mm 
(2). Welding space: 330mm~1600mm 
(3). Thickness: 
(1)1.0mm~1.2mm for smooth geocell
(2) 1.5mm~1.7mm for textured geocell
4. Textured and smooth geocell
HDPE Geocell Features:
1) Light material, resistant to wear, stable in chemical properties, anti-aging, resistant to acids and alkalis, applicable to different soil and desert and other geological conditions.
2)High limit on lateral direction, anti-skidding, anti-deformation, effectively enhance the supporting ability and scattered load function of roadbed.
3)High carrying capacity and good dynamic performance and high erosion ability
4)The geometry size can be changed to meet different needs of the project, such as height and welding distance. 5)Retractable and small loading volume, convenient joint, speed construction.
6)Local material can be used during construction, reduce the construction cost, easy to be transported after folding together.
HDPE Geocell Technical Parameters:

HDPE Geocell Applications:
1. Used for all kinds of road building, driveways, soil stabilization and embankment stabilization
2. Used to stabilize river embankments.
3. Used to prevent landslides. 
4. Using Geocell construction can greatly reduce labor intensity and reduce the thickness of the roadbed, construction speed, good performance and greatly reduce the project cost.


HDPE Geocell Packing: