Product Description
Geosynthetic Clay Liner(GCL) is also named sodium bentonite composite waterproof pad. This is to make high swelling sodium bentonite filling into the inside between special composite geotextile and non-woven fabric. The bentonite impermeable cushion that made of acupuncture method can form a lot of small fiber spaces. This is to make the bentonite particles cannot flow in one direction. When encountering water, it can form uniformly high density colloidal waterproof layer in the pad, and effectively prevent water leakage. Geosynthetic clay liner is suitable for artificial lake water, landfill, underground garage, roof garden, pool, oil depot and chemicals yard.
Fibers from the non-woven geotextile are needle punched through the layer of bentonite and incorporated into the other geotextile (either a woven or non-woven). When hydrated under a confining load, the bentonite swells to form a low permeability clay layer with the equivalent hydraulic protection of several feet of compacted clay.
It is used to prevent water leakages in areas of artificial lakes, waste disposal fields, underground garage, top building gardens, reservoirs, oil warehouses, and chemicals accumulating fields.
Technical Parameter


Features:
1. Improved leakage performance
2. Permanent waterproof performance
3. Simple construction and short time limit for a project.
4. Not influenced by air temperature.
5. A kind of green material and good to environmental protection.
6. More versatile than compacted clay
7. Increased airspace and liner efficiency
Application:
This Bentonite production line is usded to bond 3layers of top geotextile, middle bentonite sand, and down plastic woven film.
The water proof bentonite pad is mainly used in penetration-proof,airproof &separation in rubbish burying square,man-made lake,channel,pool,basement,subway,etc.
The production line processing of finished products with high peel strength, strong pulling hardness, low permeability.
1. Municipal project, subway, underground and roof waterproofing
2. Landfilled, waste water treatment, industrial waste
3. Waterproofing and reinfrocement in water conservancy, river, lake and dam
4. Artificial lake , golf course and fish pond
5. Petrifaction and mineral waterproofing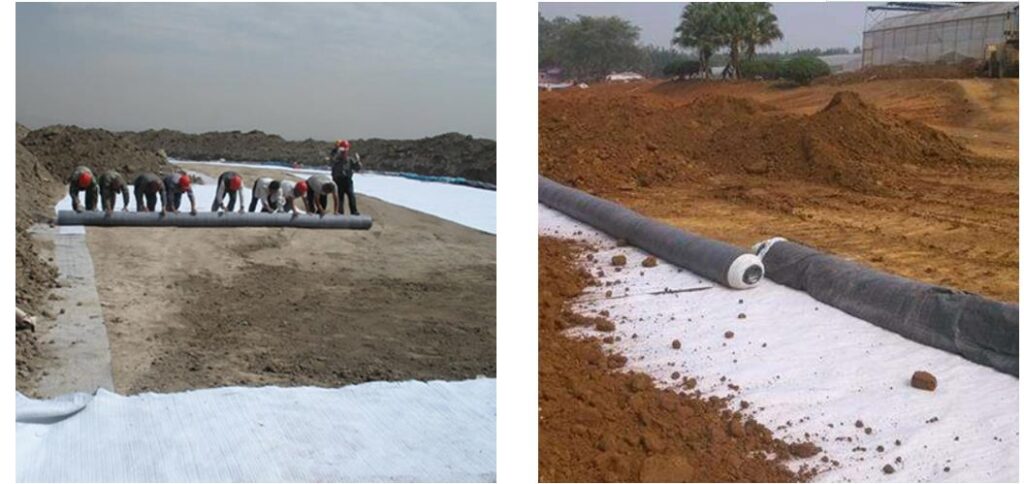 FAQ
Q : Are you a factory or trading company?
A : We are a professional manufacturer that specialized in geomembrane, geotextile, composite geomembrane etc with ISO9001 certificate more than 20 years
Q : Could you send the sample before order confirmation?
A : Yes, we'd love to send a free sample to you for an evaluation if you need.
Q : How about the delivery time?
A : General within 3-7 days after received the deposit.
Q : Can you produce the product according to customers' requirements?
A : Sure, we are professional manufacturer, OEM and ODM are both welcome.