Product Description
PP/Plastic Biaxial Geogrid is made of polypropylene. It is produced through through several processes: extruding, punching, heating, longitudinal stretching and transverse stretching. It has a high tensile strength. After adding some percent of carbon black material, it makes the product good acid and alkali resistance, corrosion resistance and ageing resistance and durability.
PP/Plastic Biaxial Geogrid is widely used for Improving the bearing capacity of foundation, Preventing cracking and subsiding. It is an economic construction material which is convenient to construct, reducing cost and maintaining expense.
Technical Data Sheet:
PP/Plastic Biaxial Geogrid: (ISO/CE Certificates)
Specification
15-15
20-20
25-25
30-30
40-40
45-45
50-50
Ultimate Tensile Strength (KN/M)
15*15
20*20
25*25
30*30
40*40
45*45
50*50
Tensile Strength at 2% Strain (KN/M)
5
7
9
10.5
14
16
17.5
Tensile Strength at 5% Strain (KN/M)
7
14
17
21
28
32
35
Strain at Ultimate Strength (%)
13
Roll Width (m)
50
Roll Length (m)
1/2/3.95/4/5.5/6
Propduct Photos: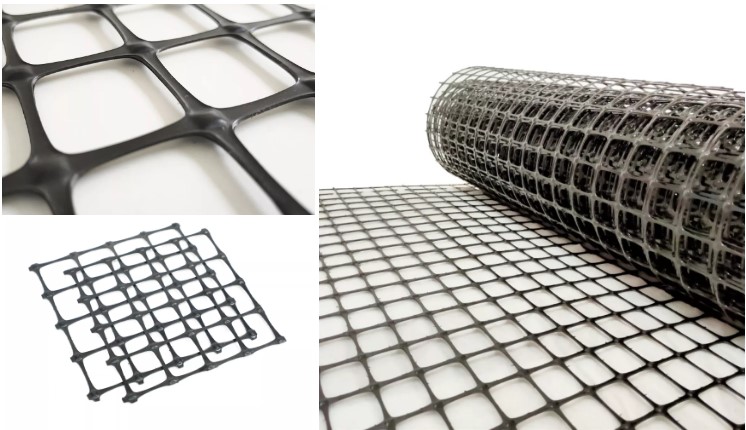 Our advantages:
New raw material and the precise formula;
Advanced equipment, perfect production process;
Real-time detection, strict quality control staff;
The packaging is solid to ensure the safety of the goods in delivery.
Application:
It reinforces old asphalt concrete road surface as well as asphalt layer, and prevents damage;
It is used for rebuilding cement concrete road surface into composite road surface and restraining reflection caused by block contraction;
It is used in road expansion and improvement project, control cracks caused by old and new combination position or by uneven sedimentation;
It is used in soft soil base reinforcement treatment. It is favorable for soft soil water separation and concretion,restrains sedimentation effectively, distributes stress uniformly and improves overall strength of road base;
It is sued for preventing contraction crack caused by new road semi-rigid base layer, and reinforces and prevents road surface crack caused by foundation crack reflection.
FAQ
1.What is geosynthetics ?
Geosynthetics form a perfect erosion control fabric used extremely widely in civil engineering to stabilize and reinforce slopes and soil under or next to roads, railways, dams, water reservoirs etc.. They can be easily applied which minimizes the time of construction, as well as they limit the resources and materials necessary. 

What kinds of geosynthetics we have ? 
Non-woven geotextile, geogrids, geocells, GCL, Geomembranes, Geonets, Geocomposites etc .

What is the geosynthetics used for ?
 Lagooning and Water Treatment, Ornamental Ponds, Golf Courses
 Aquaculture and Desalination,Water Lagoons,Tanks, Reservoirs, Liquid Waste,Floating Cover Solutions, Drainage and Filtration

Environment
Tailing ponds, Leach mining,Landfills,Landfill Capping,Protection against corrosion,Vertical Barriers

Civil Works
Erosion Control,Secondary Containment,Tunnels,Linear and Surface Works,Consolidation of Margins,Soil Reinforcement,Soil Separation. Building – Parkings,Roofing,Soundproofing

Professional geosynthetics manufacturer
 Anhui Zhonglu Engineer Materials Co., Ltd
 Angela:86-18095658976