Introduction
HDPE Pond Liner Geomembrane Circular Tanks for Biodigestor Aquaculture
HDPE smooth geomembrane is produced from high density polyethylene resin by film-blowing process, adding carbon black, antioxidant, anti-aging and UV-resistance component. Now it is the most widely used products for solid waste containment (such as landfill liners), mining and water containment applications.OBOR HDPE Pond Liner Geomembrane Circular Tanks for Biodigestor Aquaculture.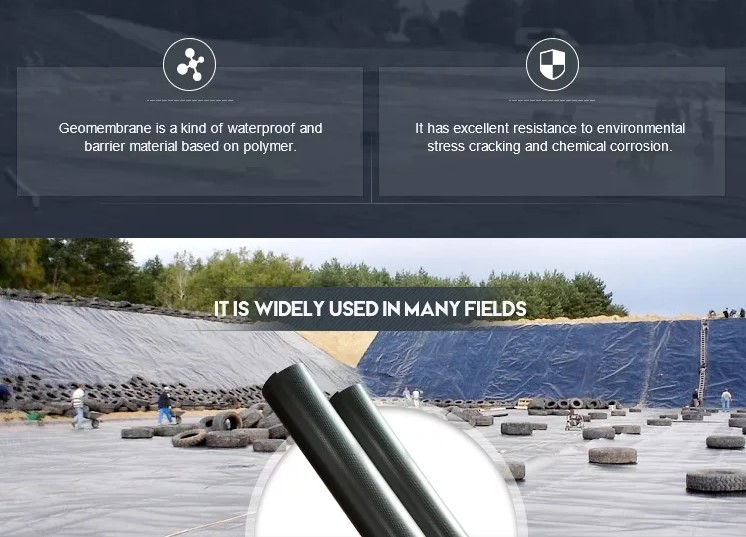 | | |
| --- | --- |
| Thickness | 0.2mm-2.5mm |
| Width | within12m(1m-12m) |
| Length | 50m-100m/roll |
| Surface | Textured or smooth surface |
| Color | Black,white,green and blue |
WHAT IS THE ADVANTAGES?
1.Environmental friendly formula:
The raw materials we have used meet the international standards, non-toxic, environmentally friendly. It is used for a variety of environmental protection, agriculture and aquaculture waterproof and anti leakage.
2.Aging resistance property:
With excellent anti-aging, anti ultraviolet and anti decomposition ability.
3.High mechanical strength:
Good mechanical strength, there are a variety of specifications to meet the different programs of electrical construction, water conservancy project waterproof.
4.Chemical stability:
Excellent stability, acid and alkali, anti salt solution, oil, alcohol and other 80 kinds of chemical medium corrosion, so it is widely used in sewage treatment, landfill.
5.Puncture resistance:
It has excellent puncture resistance, resist to most of the plant roots, so HDPE geomembrane is roof planting required products.
6.High impervious coefficient:
With perfect waterproof effect that ordinary waterproof materials can not match, it is recommended in some high waterproof requirements of the projects.
7.Fast construction speed:
HDPE geomembrane features high flexibility, with a variety of lay forms to meet the requirements of different projects, convenient and fast construction.
8.Low cost:
It adopts new technology, the production process is more scientific and efficient, so the product cost is lower than the traditional waterproof material. And it is the best product for water storage and seepage control.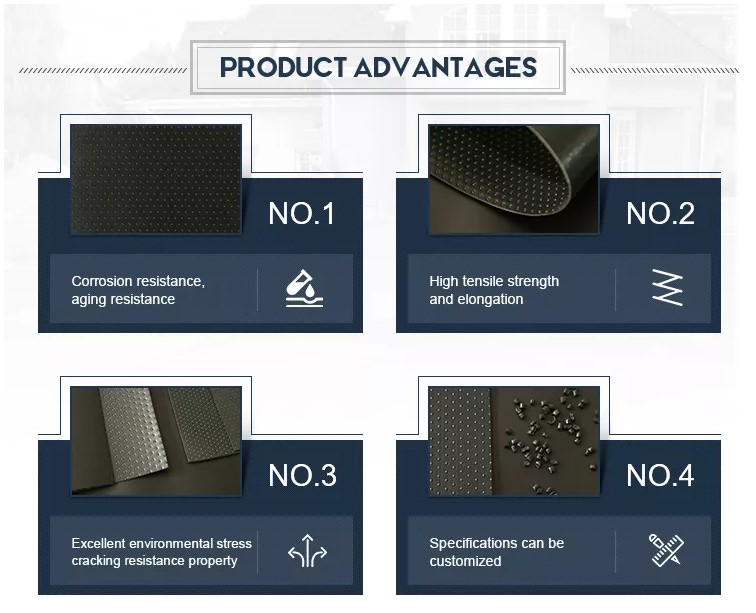 Professional geosynthetics manufacturer
Anhui Zhonglu Engineer Materials Co., Ltd
Angela:86-18095658976