Product Description
Permeable grass gravel pavers are designed for vehicular load and traffic, as well as pedestrian and bike applications and many other heavy traffic areas. It provides an eco-friendly and superior alternative to traditional permeable concrete grid paving.
Our grass pavers are very durable and can be used in both domestic and commercial applications. Plastic pavers prevent soil erosion, prevent vehicles sinking and vastly improve drainage, all whilst having a little visual impact.
When compared to traditional concrete permeable pavers, our pavers is superior in many applications, including landscaping, overflow parking, and private grass driveways. It does not crack and strong enough up to 200 ton/sqm load, is permeable, and will not dry out grass or cause flooding. Ideal for grass driveways, gravel parking areas, trailer parking spots, golf cart paths, residential parking lots, permeable pavements, rooftop gardens, swimming pool and jacuzzi surrounding areas.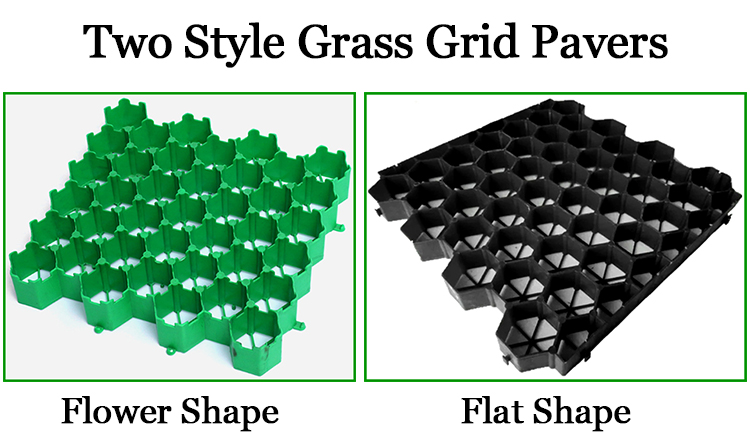 Advantages
1.Reduce ground reflection, reduce ground heat radiation
2.Reduce the ground acoustic wave transmission, reduce noise pollution.
3.Reduce dust and purify the air
4.Natural leakage of rainwater, soil does not lose, no water phenomenon
5.Free combination and disassembly, reusable
6.Easy to install.
How to install?
1. Start in corner of the project area with male tabs of first grid facing towards the center of the area
2. Line up female slots of next grid over male tabs of the first grid.
3. Lock grid into its place.
4. Repeat until the area is covered with a connected grid.
5. Gravel fill: Fill the grid with the desired aggregate to top of the grid. 
6. Lightly compact to settle.
7. Grass fill: Fill the grid with soil and seed.
Professional geosynthetics manufacturer
 Anhui Zhonglu Engineer Materials Co., Ltd
Angela:86-18095658976