3D erosion control mat is a kind of multi-layer plastic mat made of thermoplastic resin through extruding, stretching, and composing. It is applied to plant and fix soil with loose texture and leaves 90% space to fill earth, sand and stones. Plant roots can go across it, and grow comfortably. Turf after growing can let mat, grass and earth be combined together firmly.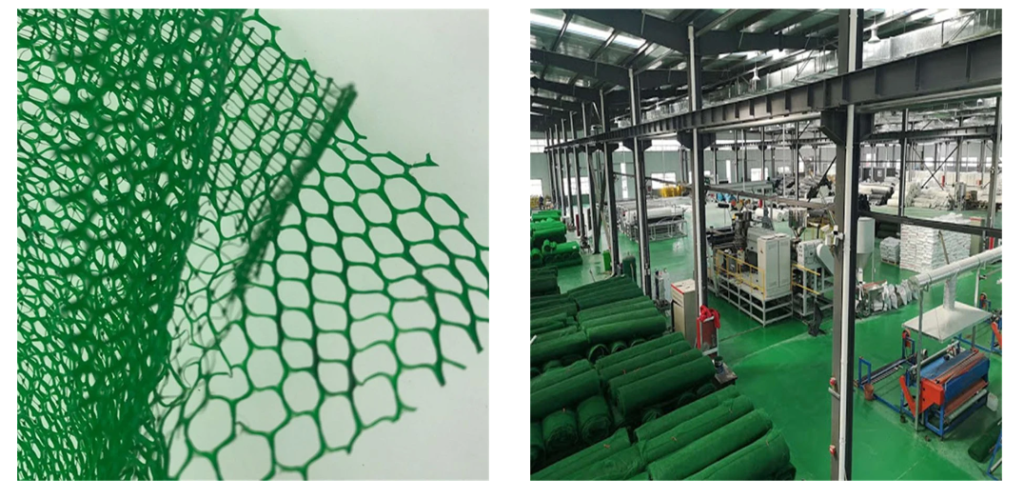 3D erosion control mats have been used in the following applications:
1. It can protect earth from being eroded by winds and rains before grass growing up;
2. It can keep grass seeds distributed in slope firmly, and avoid to be washed;
3. Black mat can absorb thermal energy abundantly, increase ground wet, promote seed sprout, and prolong growth term of plants;
4. The surface is tough, so wind and water stream can form plenty of eddy in the surface of the mat, which can produce energy
dissipation function;
5. Plants can form composite protection layer and endure wash with high water and fast speed;
6. It can replace long-lasting slope protection materials such as concrete, pitch, block, etc., and can be used in slope
protection such as road, railway, river, dam, mountain slope, etc.;
7. It can reduce construction cost greatly;
8. It can prevent move of sand dunes after laying sand surface, which can improve roughness of the road surface, increase sediment
of the road surface, change physical performance, and improve partial ecological environment;
9. It is applied in slope protection of road, railway, mine and municipal construction, and it can prevent water and soil loss;
10. First choice of gardening, greening.