Geomembrane Product Description
Geomembrane Liner is designed and fabricated with either single-sided or double-sided textured surface to provide superior high shear strength, big friction angles, outstanding elongation and highest interface surface friction coefficient, etc. Zhonglu textured geomembrane liners are widely applied for such projects which require increased friction between two layers and high steeper slopes as landfills, mining, retaining backfills and waste containment.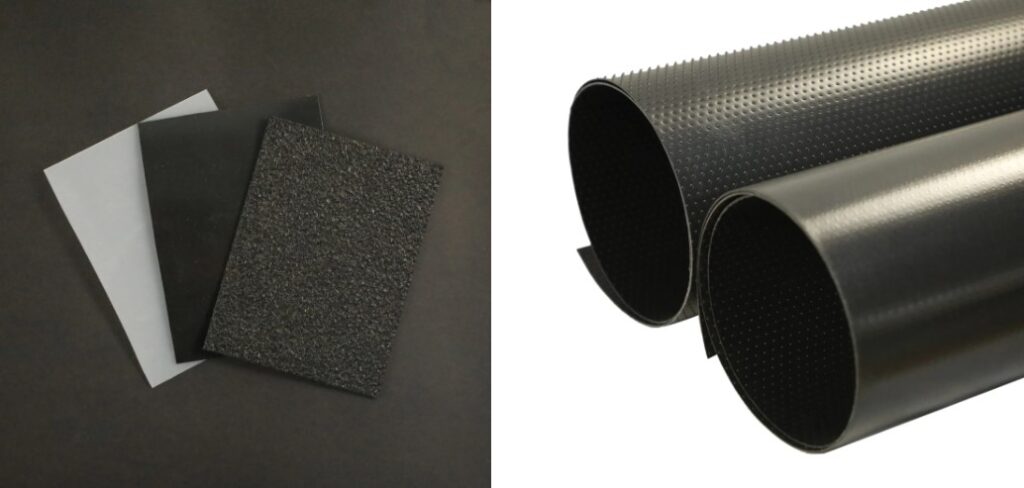 Here are several functions for geomembrane pond liner:
1)     Good physical and mechanic performance
2)     High tearing resistance, strong deformation adaptability
3)     Puncture-resisting, aging resisting, ultra-violet radiation, oil and salt, and corrosion resistance
4)     Good adaptability to high and low temperature, non-toxicity, long service life
5)     Good waterproof, drainage, anti-seepage and damp proof effects
6)     Complete width and thickness specifications, low cost and easy installation.
HDPE Geomembrane Technical Parameter (GB standard)
Spec
Properties
GMS0.5
GMS0.75
GMS1.0
GMS1.25
GMS1.5
GMS2.0
GMS2.5
Thickness
0.5mm
0.75mm
1.0mm
1.25mm
1.5mm
2.0mm
2.5mm
Tensile Properties
(each direction) (≥)
.yield strength
.break strength
.yield elongation
.break elongation
7KN/m
10KN/m
—
600%
10KN/m
15KN/m
—
600%
13KN/m
20KN/m
11%
600%
16KN/m
25KN/m
11%
600%
20KN/m
30KN/m
11%
600%
26KN/m
40KN/m
11%
600%
33KN/m
50KN/m
11%
600%
Density(≥)
0.940g/cc
0.940g/cc
0.940g/cc
0.940g/cc
0.940g/cc
0.940g/cc
0.940g/cc
Puncture Restistance (≥)
120N
180N
240N
300N
360N
480N
600N
Carbon Black Content
2.0-3.0%
2.0-3.0%
2.0-3.0%
2.0-3.0%
2.0-3.0%
2.0-3.0%
2.0-3.0%
Carbon black Dispersion
Noted(1)
Noted(1)
Noted(1)
Noted(1)
Noted(1)
Noted(1)
Noted(1)
Tear Resistance (≥)
56N
84N
115N
140N
170N
2255N
280N
Oxidative Induction Time(OIT)
Standare OIT(≥)
60min.
60min.
60min.
60min.
60min.
60min.
60min.
Geomembrane Project Case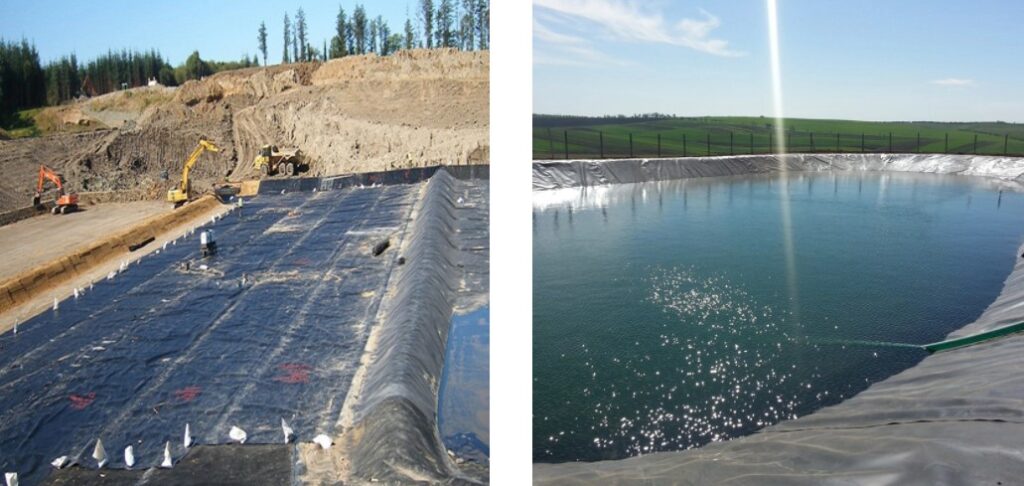 Petrochemical (chemical plant, oil refinery storage tank                             Water conservancy and civil engineering (river / lake /       
anti-seepage and anti-fouling, chemical reaction tank lining, etc.)           reservoir / dike anti-seepage, plugging, reinforcement, etc.)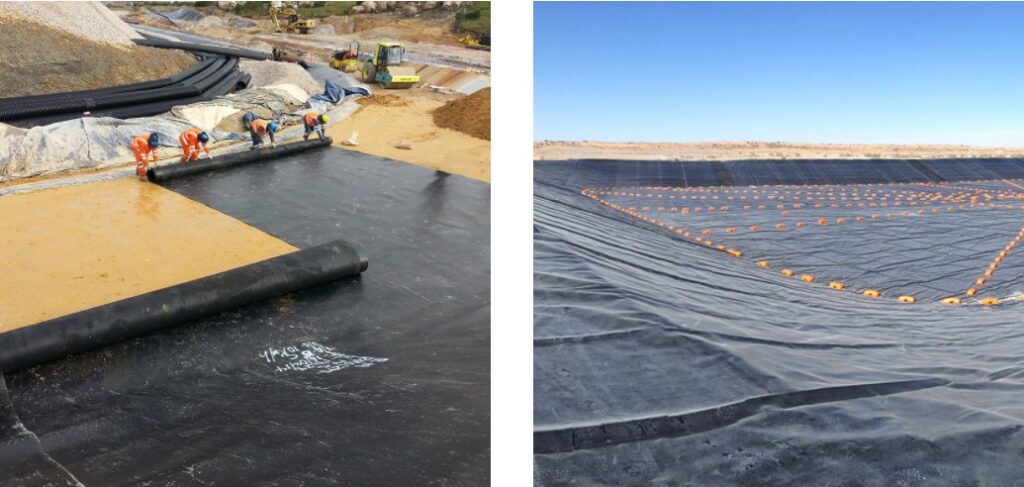 Municipal engineering (underground, underground construction                    Landscaping (artificial lake, pond, pond lining
of buildings and roof tanks, lining of sewage pipes, etc.)                                    of golf course, etc.)
HDPE Geomembrane Construction Method
1. The slope shall be laid in order from top to bottom. Don't pull it too tight.
2. Tow adjacent longitudinal joints should not be in a horizontal line, should bestaggered more than 1m each other.
3. Longitudinal joints should be more than 1.50m away from the dam foot and bending foot, and should be located on the plane.
4. When the slope is laid, the direction of spreading film should be basically parallel to the slope line.
5. The construction, first of all to use small diameter sand or clay levelingbase, and then laid the geomembrane. The geomembrane should not be stretched too tight, and the part of the soil bured at both ends is corrugated. A transitional layer of about 10cm is laid on the geomembrane with sand or clay.
HDPE Geomembrane Workshop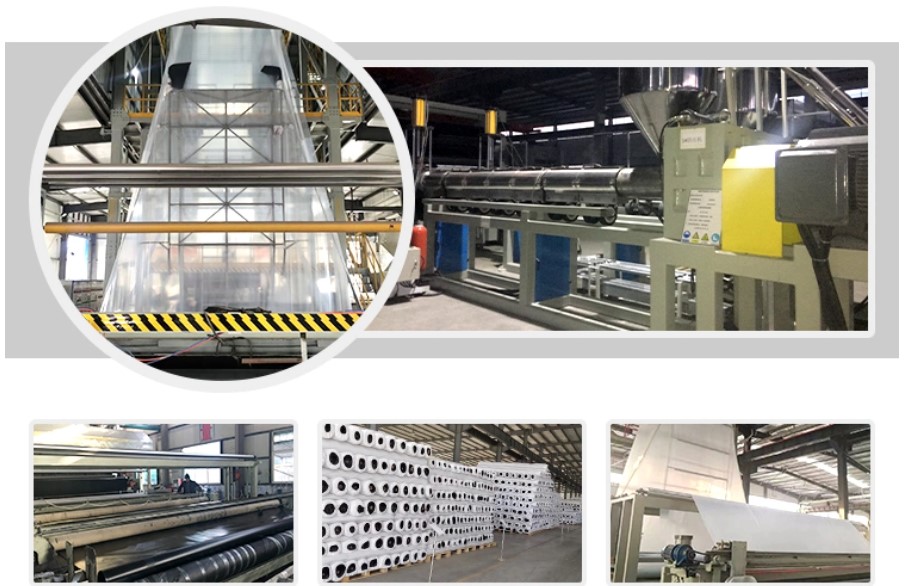 Any more questions,please feel free contact us!